Did you know that Batam is located across the sea from Singapore, which takes only 40 minutes on a speed boat to reach there? If you are planning for an affordable and short weekend getaway, Batam would be the ideal destination to visit. There are a lot of activities and places of attraction in Batam to keep you occupied, and if you are a fan of snorkeling or diving opportunities – you will definitely be amazed by the incredibly clear water and underwater living in this part of Indonesia. Here are some of the things you must do while you are in Batam, Indonesia…
Discover Penyengat Island
There are a lot of beautiful islands surrounding Batam Island itself and they are all great destinations for day trips for a getaway. One that we can recommend is the famous Penyengat Island, where you can spend approximately two hours walking around the area. You will get to experience how the locals live their life there and also catch the amazing view of the sun setting. Also, don't forget to visit the legendary Yellow Mosque (Masjid Kuning) which is the ultimate landmark of the island, where it is believed that eggshells were used in its construction to make the walls stronger.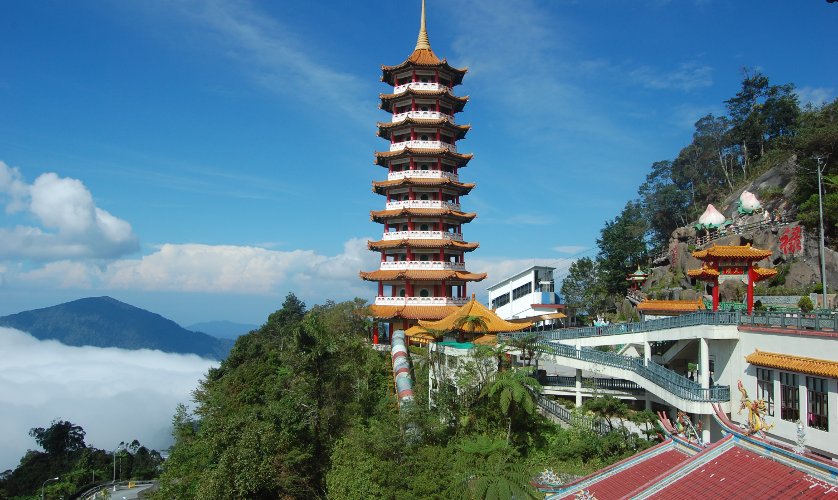 Visit Maha Vihara Duta Maitreya Temple
This temple was built in 1991 and it is known as the biggest temple in South East Asia with a measurement of 4.5 hectares. If you are looking to find Zen and inner peace within yourself, you should visit this temple and be inspired by the different types of Buddha sculptures here, as well as the beautiful carvings of twelve zodiac signs which is placed opposite the temple. There are also sections for devotees to pray and burn incense for blessings. You will also find a clinic, vegetarian restaurant, and school inside the temple.
Sunbath at Nongsa Beach
What is the point of visiting an island, if you are not heading to the beach! With that being said, it is a must to visit Nongsa Beach as it is known as one of the best beaches around Batam. This beach is especially less crowded and has a serene atmosphere to enjoy sunset dinners with your loved ones. It is perfect for those who wants a peaceful environment to retreat, with several eateries and resort nearby the beach.
Go Scuba Diving or at least give it a try
If water is your element, then you should try Scuba Diving at least once here! The well-known diving spots located offshore from the main Batam Island are Hantu Island, Labun Island and Petong Island. You can obtain an official diving certificate at Batam Island at an affordable price and get trained by professional divers. Whereas, if you are already an experienced diver, you will be amazed by the amazingly clear water here and watch a huge selection of aquatic life such as sharks, rays and turtles. If scuba diving is too heavy for your liking, you can even just snorkel around the shallow areas with your family and friends.
Pamper yourself with massage & spa sessions
One of the main reasons many people go for an island getaway is to either seek rest or to retreat from the city. Taking advantage to pamper yourself during a getaway is a must, hence while you are in Batam Island, you will notice that there are a myriad of spa and massage centres to choose from. However, it is always wise to choose one where quality matters, especially when it comes to highly skilled massage therapists just like the ones found in Thai Odyssey. The largest Traditional Thai Massage chain in South East Asia is located in Nagoya Hill Superblock and it takes approximately 10-15 minutes drive from Harbour Bay (closest ferry terminal). The outlet spreads over 800 square metres for locals and tourists to rejuvenate in this sanctuary of serenity. Choose from Thai Traditional Massage, Thai Aromatherapy Massage, Thai Herbal Therapy,  to even just a 1-hour Traditional Foot Massage to complete your meaningful day.
Go on a feasting adventure
When you are on a vacation, food hunting has to be one of the top things to do because that's how you familiarise yourself with the place. At Batam, besides indulging in a rejuvenating massage, make sure to also indulge and enjoy all the seafood delicacies in the region. The most popular seafood restaurant in Batam is called Wey Wey Seafood, whereas other three top picks for seafood in the city include Sei Enam (The best restaurant in Batam according to TripAdvisor), Rezeki Seafood and Harbour Bay Seafood. These three restaurants are approximately 30 minutes away from Nagoya Hill Superblock where Thai Odyssey is located. Don't leave Batam without having some seafood dishes!
Enjoy duty-free shopping
Good news for shopaholics because Batam is also well-known for its duty free haven. Many Singaporeans will make a trip to Batam for a day just to shop for anything they need or want before heading back. Check out Nagoya Hill Shopping Mall and Mega Mall Batam Centre where everything is sold at unbelievably-low prices. Batam may just be an island but that does not mean that it does not have shopping malls for you to splurge in.
There you have it, our top things to do while you're in Batam Island. With the assistance on the list we provided, your trip is as good as well-planned with fun-filled and relaxing activities. You and your loved ones will most certainly want to come back for more…
References:
http://discoveryourindonesia.com/things-to-do-in-batam/
https://trip101.com/article/best-things-to-do-in-batam-center-indonesia